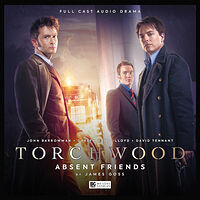 Note: Was due out in May 2021 but now delayed indefinitely following the controversy about John Barrowman's on-set behaviour.
Cover blurb:
On a dark and stormy night in Cardiff, the city is in danger, and the Doctor's put himself in charge of Torchwood in order to save it.
In a sealed recording studio, the voices of the dead have been playing for 17 years. Was it the project of a madman, or is this the site of something terrible?
Torchwood has been hunting for the Doctor since 1879. And now they've found him.
They may regret it.