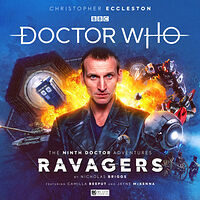 Edition:
UK (CD)
Released:
May 2021 (Big Finish website only)
July 2021 (wide release)

Publisher:
Big Finish
ISBN:
978-1-83868-340-5
Format:
4 x CD
Owned:
Buy:
Cover blurb:
SPHERE OF FREEDOM • CATACLYSM • FOOD FIGHT
On the Sphere of Freedom, the Doctor is about to shut down an evil Immersive Games business empire. He's assisted by a valiant galley chef called Nova. But his plan spectacularly fails...
Now, the Doctor must fight back to discover what could have caused everything to go so badly wrong. His journey takes him via Piccadilly Circus in 1959, Belgium 1815 and far flung future worlds where machine intelligences regard sentient life as mere biofuel.
Where does the mysterious old-timer Audrey fit in? Is the alien beverage Charganzi safe to drink? And is there really anything the Doctor can do to stop the entire universe from being devoured?