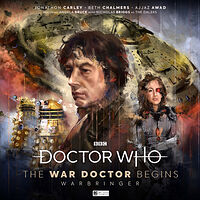 Cover blurb:
The Doctor is no more. In his place, a warrior, finally joining the Time War between the Daleks and Gallifrey.
But how far will he go to end the conflict? What lines will he cross? How much of himself will he sacrifice?
The War Doctor is beginning to find out who he is...

CONSEQUENCES BY TIMOTHY X ATACK
DESTROYER BY ANDREW SMITH
SAVIOUR BY JONATHAN MORRIS