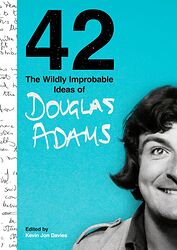 Description: Large coffee-table book containing reproductions of notes and paperwork from Douglas Adams's extensive written archives. Includes an entire chapter devoted to his time on Doctor Who, primarily featuring his early notes on the storyline for The Pirate Planet.
Cover blurb:
'DOUGLAS WAS SOMETHING THAT WE DON'T HAVE A WORD FOR YET — A FUTUROLOGIST OR AN EXPLAINER. ONE DAY WE WILL REALISE THAT THE MOST IMPORTANT JOB OUT THERE IS SOMEONE THAT CAN EXPLAIN THE WORLD TO ITSELF IN WAYS THE WORLD WON'T FORGET'
Neil Gaiman

'IT'S DREADFUL TO THINK THAT YOU NEVER PINCHED AND ZOOMED ON A SMARTPHONE OR TABLET, NEVER ENGAGED WITH AN AI CHATBOT... OF COURSE, YOU WOULDN'T HAVE BEEN SURPRISED BY A SINGLE ONE OF THESE DEVELOPMENTS, THE INTRUSIONS ON OUR LIVES THAT HAVE SO TRANSFORMED THE WORLD SINCE YOU SO PRECIPITATELY LEFT IT. YOU SAW THEM ALL COMING'
Stephen Fry, in a letter to Douglas Adams

When Douglas Adams died unexpectedly in 2001, he left behind a treasure trove of notebooks, letters and memorabilia. 42 reveals for the first time the most fascinating items from this archive — from comedy sketches written when Douglas was a student to early drafts of The Hitchhiker's Guide to the Galaxy. Together they offer a unique insight into the mind of one of the twentieth century's most popular authors.
Fascinated by technology, Douglas Adams was both an advocate for conservation and a forward-thinking innovator, and his ideas were often ahead of their time. Douglas was always funny, always curious (but sometimes struggled with deadlines), and 42 shows the many sides of his remarkable talent.
Alongside hundreds of his personal artefacts are contemporary letters written to Douglas from a number of friends, including Margo Buchanan, Arvind David, Stephen Fry, Neil Gaiman, Dirk Maggs and Robbie Stamp.