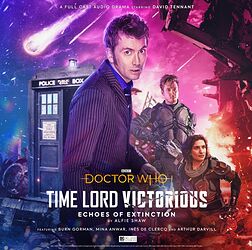 Note: Numbered limited edition of 1,000 copies. Originally announced as exclusively available to Asda, however that later changed to a "regular" release, albeit one only available via online retailers. Described as "a double-A side vinyl Doctor Who release featuring a different incarnation of the Doctor on each side" — like the 2003 release Flip-Flop, the two sides can be listened to in any order. Likewise, there are two different cover images, one on the front featuring the Tenth Doctor (as shown) and the rear cover featuring the Eighth Doctor. A downloadable version is also available from Big Finish, however there are apparently no plans for a CD version.
Cover blurb:
Trapped, a haunted monster waits to consume new victims. It needs help. It needs a doctor. Unfortunately, it also needs to kill whoever it meets. Thrust into immediate danger, and on the back-foot, it will take all of the Doctor's ingenuity to triumph.
Two interlinked adventures. Two Doctors. One foe.