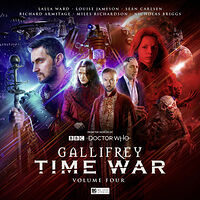 Cover blurb:
Romana is lost to the Time War though Leela and Narvin still fight to survive.
A resistance, caught between Rassilon's fury and the Dalek Emperor's mania, have a desperate plan to stop the conflict.
Everything ends. And for some on Gallifrey, the Time War will soon be over.

DECEPTION BY LISA McMULLIN
DISSOLUTION BY LOU MORGAN
BEYOND BY DAVID LLEWELLYN
HOMECOMING BY MATT FITTON