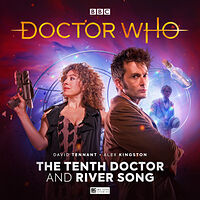 Description: CD box set containing three original Doctor Who audio dramas, all featuring (as the title suggests) the Tenth Doctor and River Song. Each of the three audio dramas were also simultaneously released separately: Expiry Dating, Precious Annihilation and Ghosts.
Cover blurb:
The Doctor knows that River Song is a part of his future. A maddening, intriguing, but inevitable part.
Their lives are becoming inextricably intertwined, but in these early days — for the Doctor at least — they must navigate their relationship without too many spoilers.
Whatever her past, and the Doctor's future, holds, River will make sure that he has fun untangling the mystery...