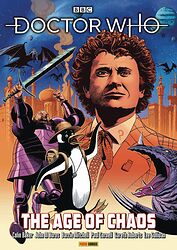 Note: Paperback graphic novel reissue of the standalone Doctor Who comic featuring the Sixth Doctor, originally published in 1994. (Since the original was sold on magazine shelves without an ISBN number, it is classed as a comic rather than a graphic novel, hence why it is not listed on this site.)
In addition to The Age of Chaos, this volume also republishes three other comic strips from various sources: The Last Word (Seventh Doctor) from a 2001 issue of Doctor Who Magazine, Metamorphosis (Seventh Doctor) from the 1993 Yearbook, and Under Pressure (Third and Fourth Doctors) from the 1992 Yearbook.
Cover blurb:
COLLECTED MULTI-DOCTOR COMIC STRIPS — VOLUME 4
The classic Sixth Doctor adventure is here at last, written by the Doctor himself, COLIN BAKER!
The Doctor and his penguin pal Frobisher take a perilous journey across the war-torn planet Krontep, battling wizards, warlords and witchcraft! Don't miss the biggest-ever comic strip saga from the publishers of DOCTOR WHO MAGAZINE!
Also: adventures with the Third, Fourth and Seventh Doctors!
THE AGE OF CHAOS
THE LAST WORD
METAMORPHOSIS
UNDER PRESSURE
The Doctor, Ace and Bernice Summerfield take a convoluted trek through human history as they tackle the deadly Timewyrm!
Deep space becomes the setting for a lethal reunion between the Doctor and Ace and their greatest enemies: THE DALEKS!
A nuclear submarine encounters the Sea Devils! Can the Third and Fourth Doctors work together without destroying their own timelines?!
ALSO! An 11-page commentary section where the comics creators reveal the secrets behind the stories! Featuring character sketches, photos and previously unseen artwork!
AN ESSENTIAL COLLECTION FOR FANS OF DOCTOR WHO AND CLASSIC BRITISH COMICS!