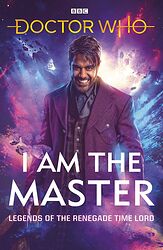 Description: Short story collection featuring the Doctor's arch-enemy, The Master. Publisher's description as follows:
The Doctor and the Master; their conflict of light and dark has spanned many times and faces across the universe. This collection — of five short stories and a novella — explores the depths of darkness in the Master's hearts; the arch-schemer's secrets and sinister ambitions revealed through brand new adventures and encounters.
Join six incarnations of evil for undreamed of adventures: a quest to free alien warlords... a dangerous mission to save a vital ally... a meeting with Bram Stoker... a shattering of lives on a distant world... a trial of wits to gain untold power... and drop in on the Master's latest incarnation during his 77 years of imprisonment on Earth.
Cover blurb:
'Everything you know...is a lie.'

Inside cover flaps read as follows:
Anger Management
by Peter Anghelides
Blackmailed by a sinister biomechanoid, the Master must use his talents to liberate three alien warlords held captive on Earth. Can he turn the tables on his oppressors?
The Dead Travel Fast by Mark Wright
Holidaying in Whitby, Bram Stoker is plunged into a world of horror when a grandfather clock washes to shore together with the hideous remains of the dying Master — who will do anything to survive.
Missy's Magical Mystery Mission
by Jacqueline Rayner
Is cleaner Daphne Nollis really the best choice to enter a contest to possess the ultimate power in the universe? And is the manically helpful hologram Miss E all she seems?
A Master of Disguise by Mike Tucker
The Master is forced to engineer a daring and desperate heist in order to save the architect of his many disguises from certain death.
The Night Harvest by Beverly Sanford
A farm worker from a backwater planet, Tala has always dreamed of meeting a stranger from the stars. When the Master arrives, the truth of her world is exposed in ways that will change her forever.
The Master and Margarita
by Matthew Sweet
Marooned by the Doctor on Earth for 77 years, the Master becomes scientific advisor to the Soviet equivalent of UNIT — with a deadly agenda of his own. But his plans take a strange twist with the coming of the unearthly Comrade Cap...

Peter Anghelides has written award-winning and best-selling titles, with dozens of publications for BBC Books, BBC Audio, Virgin Publishing and Big Finish Productions. His original novels, audios and short stories include Doctor Who, Torchwood, Blake's 7 and The Sarah Jane Adventures. His website is anghelides.org.
Mark Wright is a writer, producer and editor. He writes about some of the biggest pop culture brands, including Star Wars and Star Trek, and was the editor of Doctor Who: The Complete History. He is a regular contributor to Doctor Who Magazine and co-wrote the Sunday Times bestseller Who-Ology.
Jacqueline Rayner is the author of over 40 books and audio plays, including number one bestseller The Stone Rose, the highest-selling Doctor Who novel of all time, and two Doctor Who 'Quick Reads' for World Book Day. She also writes regularly for Doctor Who Magazine.
Mike Tucker is a designer and author who has written several original Doctor Who novels. He has also co-written numerous factual books relating to film and television, including Impossible Worlds and the TARDIS Instruction Manual.
Beverly Sanford's first Doctor Who story, Pain Management, featured in The Target Storybook (2019). She has also written several Young Adult novels, been a BBC Writer's Room semi-finalist (2011) and an Editor's Choice in the Jim Henson Co/Penguin Dark Crystal Author Quest (2014).
Matthew Sweet presents the BBC radio programmes Free Thinking, Sound of Cinema and The Philosopher's Arms. He has judged the Costa Book Award, edited The Woman in White for Penguin Classics and was Series Consultant on the series Penny Dreadful. His books include The West End Front and Operation Chaos.