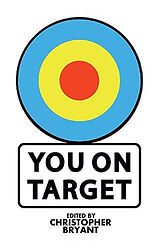 Cover blurb:
If The Horns of Nimon was your first Target novelisation, if The Monster of Peladon was that elusive title you had trouble tracking down, if Four to Doomsday was a birthday present from your granny or if Galaxy Four was the book that taught you how to love reading, then this is the volume for you.
Carrying on from where You and Who: Contact Has Been Made left off, You On Target is the history of the Doctor Who adapted novelisations — from the very first one back in 1964 to the latest releases in 2019 — as told by the people who read them.
It's the definitive story of how we have enjoyed Doctor Who's television canon in print fiction, and of how those titles changed and developed as we changed and developed alongside them.