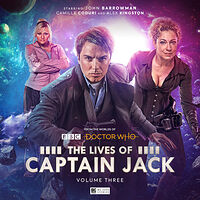 Cover blurb:
CAPTAIN JACK HARKNESS — time-travelling con-man, saviour of Earth, and intergalactic adventurer. He has lived many lives. These are three more of them.
CRUSH BY GUY ADAMS
Captain Jack takes Mrs Tyler on a luxury cruise in space.
MIGHTY AND DESPAIR BY TIM FOLEY
On a distant planet in the far future two travellers have come looking for a mythical hero.
R&J BY JAMES GOSS
From ancient battles to eternal wars,
A pair of time-cross'd lovers take the stars.