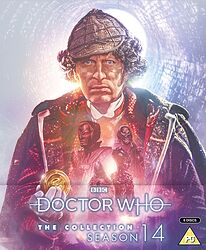 Edition:
UK (Blu-ray)
Released:
May 2020

Publisher:
BBC Video
Format:
8 x Blu-ray
Owned:
Buy:
Note: Re-released on July 27th 2020.
Cover blurb:
CONTINUE YOUR DOCTOR WHO ARCHIVE WITH THE ULTIMATE COLLECTORS' SET
A classic season from the Fourth Doctor — all 26 episodes newly remastered and packed with bonus material.
• THE MASQUE OF MANDRAGORA • THE HAND OF FEAR
• THE DEADLY ASSASSIN • THE FACE OF EVIL
• THE ROBOTS OF DEATH • THE TALONS OF WENG-CHIANG*
All 26 episodes newly restored for Blu-ray and packed with extra material including:
BRAND NEW SPECIAL EFFECTS for The Talons of Weng-Chiang
IN CONVERSATION Matthew Sweet chats to Philip Hinchcliffe
OUR SARAH JANE New documentary celebrating the life of Elisabeth Sladen
BEHIND THE SOFA New episodes with Tom Baker, Louise Jameson, Philip Hinchcliffe, Peter Purves & Sophie Aldred
BRAND NEW AUDIO COMMENTARIES with Tom Baker on episodes of The Face of Evil and The Talons of Weng-Chiang
WHOSE DOCTOR WHO The 1977 documentary restored from original film elements
WHOSE DOCTOR WHO REVISITED A look back at this landmark documentary
BLU-RAY TRAILER
AUDIO ARCHIVE Including a rare Tom Baker interview from 1976, plus radio drama Exploration Earth and the vintage LP release The Pescatons
IMMERSIVE 5.1 SURROUND SOUND For The Deadly Assassin
PDF WRITTEN ARCHIVE Scripts & rare archival material
Each disc also features Special Features previously released on DVD including: MAKING-OF DOCUMENTARIES, FEATURETTES, AUDIO COMMENTARIES, INFO TEXT AND MUCH MORE.

*includes language that may offend