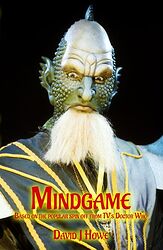 Edition:
UK (standard paperback)
Released:
January 2021

Publisher:
Telos
ISBN:
978-1-84583-987-1
Format:
paperback
Owned:
Buy:

New:

$15.71

$3.33 Save 79%
Cover blurb:
'A Sontaran, a Draconian and a Human ... It sounds like the beginning of a bad joke.'
Sontaran Field-Major Sarg, Draconian Colonel Eskon and a Human mercenary who cannot remember her name have nothing in common ... that is until they are each snatched from their everyday lives to do battle in an alien arena on an asteroid suspended in the void! With a massive clash of cultures looming, can they each settle their differences and work together to defeat the alien intelligence which is trying to pit them against each other ...?
And then, once returned to their own times and places, can they continue as they were before, or has the experience changed them all?
An exciting adventure from the Worlds of Doctor Who.
Mindgame is based on, and expands upon, the 1998 Reeltime Pictures drama production Mindgame and the 1999 Reeltime Pictures drama production Mindgame Trilogy. Both released on DVD by Koch Media (titled Mindgame Saga) and available from www.timetraveltv.com. All characters are used with permission of the relevant rights owners. This book has not been licensed or approved by the BBC or any of its affiliates.

The cover depicts Miles Richardson as Draconian Colonel Eskon.