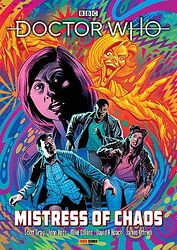 Description: Graphic novel featuring a selection of Thirteenth Doctor comic strips originally published in Doctor Who Magazine.
Cover blurb:
COLLECTED 13TH DOCTOR COMIC STRIPS — VOLUME 1
The first Thirteenth Doctor graphic novel collection is here!
The Doctor and her companions Yaz, Ryan and Graham explore a dangerous universe in adventures from the pages of DOCTOR WHO MAGAZINE!
Featuring four amazing tales...
THE WARMONGER
HERALD OF MADNESS
THE POWER OF THE MOBOX
MISTRESS OF CHAOS
The City of Radiant Light on the planet Gatan lies in ruins, the victim of a deadly conflict — but the Doctor and her friends soon learn that this war is unlike any the universe has ever seen before!
Bohemia, 1601: Tycho Brahe and Johannes Kepler join the world's finest astronomers as they gather at the mysterious Castle Houska. The time travellers gatecrash the party — and encounter a creature from beyond the realms of sanity itself...
The colony world Acantha is home to both humans and the Mobox Empire. When Ryan is left for dead, the Doctor begins to uncover a conspiracy with a horrific secret...
A sinister figure is terrorising the galaxy — and her name is the Doctor! A confrontation on Venus hurls the Doctor and Graham into a cold, dark world ruled by the one enemy even she can't defeat...
ALSO! An 11-page commentary section where the comics creators reveal the secrets behind the stories! Featuring character sketches, photos and previously unseen artwork!