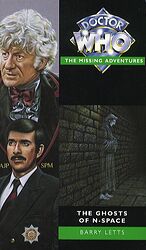 By:
Barry Letts
Rating:
4.3 (66 votes) Vote here
Review:
Everyone is wrong about this book Read more (4 in total)
Released:
February 1995

Publisher:
Virgin
ISBN:
0-426-20434-4
Format:
paperback
Owned:
Buy:
Note: Novelisation of the BBC radio drama, which was recorded in 1994, but due to numerous delays was not broadcast until 1996 — hence the novelisation was released first (explaning the erroneous reference to a 1995 broadcast on the cover).
Cover blurb:
An original novel featuring the Third Doctor, Sarah Jane Smith and Brigadier Lethbridge-Stewart.
'When the barrier gives way this planet will be flooded by all the evil in N-Space. And, at the moment, I have no idea how to stop it.'
Sarah Jane Smith, on holiday with her chum Jeremy and a bad case of writer's block, is amazed to find the Brigadier in the same part of Italy. He is there to help a distant relative whose tiny island home has been threatened by American mobster Max Vilmio.
When the ghosts that haunt the island's crumbling castle are joined by less benign spectres, the Brigadier summons the Doctor — who discovers that the whole of mankind is threatened by the plans of the ruthless Vilmio and his mysterious, hooded henchman.
This adventure takes place between the television stories Death to the Daleks and The Monster of Peladon. As a radio play, scripted by Barry Letts, it is being broadcast on BBC Radio 2 in 1995 with Jon Pertwee, Elisabeth Sladen and Nicholas Courtney resuming their television roles as the Doctor, Sarah Jane and the Brigadier.
Barry Letts has had a long association with Doctor Who. He has written several scripts for television, a novelization of The Daemons, as well as the recent radio play The Paradise of Death. He was producer of the television series from 1970 to 1974.