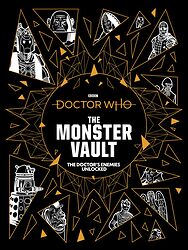 Note: A full-colour A-Z compendium of the monsters and aliens that the Doctor has faced over the years.
Cover blurb:
UNLOCK THE SECRETS OF THE MONSTER VAULT
From the Abzorbaloff to the Zygons, via evil Stenza warrior Tzim-Sha, the scavenging Skithra and the notorious Daleks and Cybermen, The Monster Vault shows the Doctor's most dangerous enemies in their natural habitaits, and reveals their untold secret histories. With artwork and photographs from seven decades of Doctor Who, this is the ultimate monster history.