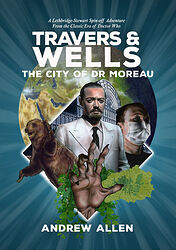 Edition:
UK (hardback)
Released:
2 June 2021

Publisher:
Candy Jar Books
ISBN:
None
Format:
hardback
Owned:
Buy:
Cover blurb:
Edward Travers and HG Wells are flung once again into an alternative reality: a London both achingly familiar and quite unlike the city either of them know. In the dying days of the Edwardian empire, public protests over the increasing use of vivisection in animal research collide with rising fears about looming war.
Connecting both is the mysterious Dr Moreau. Wells is fascinated by the accomplished scientist, but Travers is horrified by the dark truth of the man that he previously had believed to be mere fiction.
As the two men begin to discover the purpose behind their adventures out of time and come face to face with who is controlling their journey, they pursue Moreau to the inevitable conclusion: his very own island of creation, a perverse garden of Eden that's very close to home...

BASED ON THE CHARACTERS CREATED BY MERVYN HAISMAN & HENRY LINCOLN, GLEN McCOY, AND HG WELLS