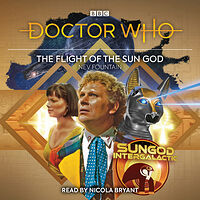 Description: Original Doctor Who audio reading featuring the Sixth Doctor.
Cover blurb:
Nicola Bryant reads a brand new story featuring the Sixth Doctor and Peri, set in the far future
The TARDIS lands aboard the Sun God, a vast spaceship carrying executives from a powerful 35th Century energy company.
Evading a pack of deadly cat-like robots, the Doctor discovers that Spalding Revere, the company's founder, has set the ship on course for the heart of a sun. Meanwhile Peri meets Brian, whose half-man/half-insect body has a terrible significance to Spalding's plan.
Spalding's last wish is to take his acolytes with him to the afterlife, and unless the Doctor can intervene he and Peri will be going with them. As tensions and in-fighting grow among the staff, and the Sun God continues on its final mission, time is running out for them all...
Nicola Bryant, who played Peri in the TV series, reads this original adventure by Nev Fountain, featuring the Sixth Doctor as played on TV by Colin Baker.