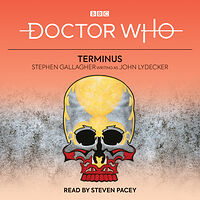 Description: Audio reading of Stephen Gallagher's 1983 novelisation.
Cover blurb:
Steven Pacey reads this intriguing novelisation of a classic TV adventure for the Fifth Doctor, as played by Peter Davison
"Slick and polished...immersive productions of much-loved novelisations...long may we enjoy them."
Doctor Who Magazine
"We're at the Terminus, where all the Lazars come to die!"
The TARDIS console is wilfully sabotaged, and the Doctor's time machine becomes dimensionally unstable. As the internal fabric begins to dissolve, Nyssa is drawn into a junction with a strangely deserted spacecraft.
Following in pursuit, the Doctor, Tegan and Turlough discover the shocking purpose of Terminus. Whilst the arrival of two cargo raiders complicates matters for the Doctor his friends become enmeshed in the spaceship's infrastructure.
For Nyssa, meanwhile, the nature of a sudden illness which engulfs her will prove to have life changing consequences.
Steven Pacey reads Stephen Gallagher's novelisation of his own 1983 TV serial, first published by Target Books.