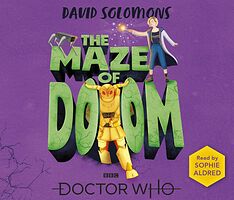 Note: Unabridged audio reading of the 13th Doctor children's novel.
Cover blurb:
A TOLL OF DANGER from deep within the TARDIS...
A DEADLY PREDATOR prowling the tunnels of London...
A HIGH-SPEED, HIGH STAKES race against time!
The Doctor is back in London, where an ancient beast is terrorising the city. As the Time Lord and her friends investigate, they uncover a mystery that will take then from a secret mountain base to the depths of the ocean — and, if they cannot solve it, one of them will perish.
Can the Doctor find a way to save her friends?
A terrifying, electrifying and hilarious adventure for the Thirteenth Doctor, as portrayed by Jodie Whittaker.