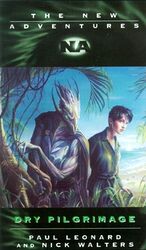 Cover blurb:
'I am going to make you immortal.'
Bored with her job, bored with being perpetually skint, Bernice Summerfield leaps at the chance of a free holiday arranged by her new friend Maeve Ruthven, St Oscar's Professor of Comparative Religion.
But all is not what it seems.
Benny's holiday rapidly goes from bad to worse to downright dangerous. For a start, the 'luxury cruise' is a religious pilgrimage, and alcohol is forbidden to those on board. Then she is attacked, badly injured and confined to a wheelchair.
And that's before the murder.
Benny finds herself caught in a web of intrigue — not knowing who on board can be trusted or which way to turn. And with the future of more than one world depending on her actions, she must decide who to believe, expose the hidden killer and prevent a ruthless grab for power.
Paul Leonard has written loads of things. Some of them are actually good, but most are only highly acclaimed. Nick Walters can often be seen zooming around Bristol on Bernice (his bicycle). This is his first novel.