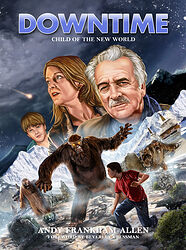 Edition:
UK (hardback)
Title:
Downtime: Child of the New World
Released:
July 2020

Publisher:
Candy Jar Books
ISBN:
Unknown
Format:
hardback
Owned:
Buy:
Note: Limited edition. Exclusively contains an artwork postcard signed by the author, a foreword by the original Kate Lethbridge-Stewart actor, Beverley Cressman, as well an additional chapter not featured in the paperback. Purchasers also received a free exclusive PDF story which acts as an epilogue to the book, plus a free copy of the paperback The Lucy Wilson Mysteries: Back in London which acts as a follow-up to the novel.
Cover blurb:
Kate Lethbridge-Stewart joins her father, Brigadier Lethbridge-Stewart, on a mission to save her son's life!
For the last nine years Kate's life has one full of contentment. Other than a minor blip in 2003, she hasn't had to worry about aliens bothering her or Gordy. Indeed, her biggest concern is her son's first girlfriend. But this all changes when a face from her past appears, bringing with him a warning.
Gordy and his cousin Conall are kidnapped by a radical group calling themselves the Followers of Maitreya, who seek the First Child of the New World.
The Brigadier and Kate join forces and begin an investigation that will lead them on a mission to the ruins of Det-Sen Monastery in Tibet, where an ancient power is about to rise. It is a mission that will tear the Brigadier's family apart, bringing them face-to-face with their worst fears and inner demons!
A brand new adventure featuring Brigadier Alistair Lethbridge-Stewart from the classic era of Doctor Who based on characters created by Mervyn Haisman, Henry Lincoln and Marc Platt.
INCLUDES EXCLUSIVE BONUS CHAPTER!
Foreword by Beverley Cressman (the original Kate Lethbridge-Stewart).

The inside cover flaps read as follows:
Lethbridge-Stewart is a series of novels set after the 1968 Doctor Who serial The Web of Fear.
It is primarily centered around the characters of Alastair Lethbridge-Stewart, who was at the time of The Web of Fear a colonel in the Scots Guards, and Anne Travers (also introduced in The Web of Fear), and is set during the four-year gap between that serial and The Invasion, which saw Lethbridge-Stewart reunited with the Doctor and promoted to brigadier and head of the UK branch of UNIT. The character continued in Doctor Who as a semi-regular from 1970 to 1975, and made many return appearances throughout Doctor Who's history. He is probably the most well-known character next to the Doctor, and a bona-fide legend of the Doctor Who universe.
Downtime (Reeltime Pictures) stars Nicholas Courtney, Deborah Watling, Jack Watling and Elisabeth Sladen reprising their roles as Brigadier Lethbridge-Stewart, Victoria Waterfield, Professor Edward Travers and Sarah Jane Smith, respectively.
It introduces the character of Kate Lethbridge-Stewart. Many years after trying to take over the world, the Great Intelligence is back once more. Brigadier Lethbridge-Stewart, now retired, and Sarah Jane Smith have to stop it, but this time without the Doctor's help. Victoria Waterfield and Professor Travers have also returned, but whose side are they really on?

ABOUT THE AUTHOR
Andy Frankham-Allen, Welsh-born, spent his formative years in London. His passion for writing began with a love for Doctor Who.
He's been writing and editing professionally since 2004, and is the author of over ten novels and many short stories, as well as audio dramas for such franchises as Doctor Who, Space: 1889 and The New Counter Measures.
He is also the creator of The Garden series of novels, although the second book the series is still unfinished (despite demand for it!). He is also the range editor of the Lethbridge-Stewart series.