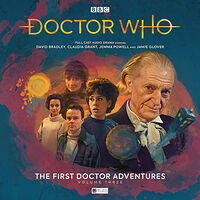 Cover blurb:
THE PHOENICIANS by MARC PLATT
In ancient Tyre, the Phoenician civilisation commands the oceans. But times are turbulent — the young King's quarrel with his sister threatens to divide the nation.
On perilous seas, Ian becomes Princess Elissa's favourite, while Susan and Barbara face losing their freedom. In the city, the Doctor falls foul of King Pygmalion. As they reach dangerous shores, the travellers fight to survive as legend becomes history...
TICK-TOCK WORLD by GUY ADAMS
When disaster befalls the TARDIS, its occupants find themselves in a bizarre location, somewhere between space and time. Desperate survivors hide among ruins, greedy scavenging creatures hunt new prey, and ghosts scream out warnings across time.
All the while, a mysterious woman watches the TARDIS crew, knowing, as sure as tock follows tick, that a terrible fate awaits them...
Includes a bonus, behind-the-scenes disc, featuring exclusive interviews with the cast and crew.