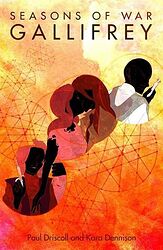 Note: Charity novel. Follow-up to Seasons of War.
Cover blurb:
On a planet already broken and divided, an unlikely band of friends are forced apart as a devastating time war rips their world asunder and threatens to destroy all of time and space.
In the struggle for peace, their lives will never be the same again.
But can Savalia, a poet turned soldier; Mordicai, a school drop-out turned engineer; Kendo, an idealist turned senator; and Tor Fasa, a respected academic turned war criminal, reunite to save the universe from total destruction?
This is the story of how they fought the wat and how the war fought them.
Proceeds from Seasons of War: Gallifrey will go to Cauldwell Children