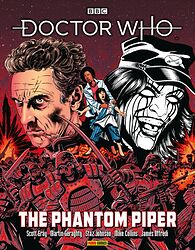 Note: Compilation of 12th Doctor / Bill comic strips from Doctor Who Magazine.
Cover blurb:
COLLECTED TWELFTH DOCTOR COMIC STRIPS — VOLUME 4
Join the Doctor in a new series of astonishing adventures from the pages of DOCTOR WHO MAGAZINE!
Featuring four amazing stories...
THE SOUL GARDEN
THE PARLIAMENT OF FEAR
MATILDUS
THE PHANTOM PIPER
The Doctor is now travelling with Bill Potts, a bright young woman he is tutoring at St Luke's University — and he's giving her an education she'll never forget...
The Doctor and Bill land on Titan, a moon of Saturn — and meet crazy quadrillionaire Rudy Zoom, Samuel Taylor Coleridge, and the deadly plant creatures called the Haluu!
A journey into the heart of the Wild West leads the Doctor and Bill into a lethal showdown with the legendary Stikini!
Bill finds herself in the alleyways of the spaceport Cornucopia, and meets the streetwise Kaballus Kids!
The time-travellers arrive in Athenia, the lunar home of Alan Turing and the android race known as the Galateans. But a malevolent creature from humanity's darkest dreams is ready to strike... The Phantom Piper!
ALSO! An in-depth commentary section where the comics creators reveal the secrets behind the stories! Featuring never-before-published art, photos and character designs!
AN ESSENTIAL COLLECTION FOR FANS OF DOCTOR WHO AND CLASSIC BRITISH COMICS!