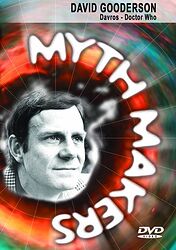 Note: Region 0 DVD-R disc. Apart from the usual behind-the-scenes featurette, there is also a second bonus feature about a visit to the BBC TV studios for the recording of Destiny of the Daleks featuring Kevin Davies, Jon Saville and Steve Cambden.
Cover blurb:
"You have to work twice as hard to get the volume, emotion and energy through that lump of latex!"
Born in India and educated at Cambridge University (where he was Vice-President of the FOOTLIGHTS), DAVID taught at Leeds Grammar School before going into the professional theatre.
After two seasons at Salisbury Playhouse, his career branched out into television and radio. On television he's appeared in major series such as THE MIND OF MR. J.G. REEDER, THE POWER GAME and A TOUCH OF FROST. He was a member of the BBC Radio Drama Company. He's now done over 200 broadcasts including the first episode of THE HITCHHIKER'S GUIDE TO THE GALAXY. When Ken Grieve was looking for an actor with radio experience to play DAVROS in DOCTOR WHO, David fitted the bill — and Michael Wisher's costume!
While continuing his career in theatre, radio and television, DAVID has also become an accomplished playwright and he discusses this multi-faceted career at his home with ROBERT DICK.
SPECIAL FEATURES Biography & 2 Behind-the-Scenes features!