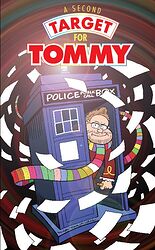 By:
Unknown
Rating:
Awaiting 3 votes Vote here
Review:
None yet Add a review
Released:
March 2018

Publisher:
Obverse Books
ISBN:
None
Format:
paperback
Owned:
Buy:
Note: Follow-up to A Target for Tommy. Charity short story anthology in aid of Doctor Who fan and author Tommy Donbavand who at the time was battling cancer. Includes the first-ever publication of the draft script for Christopher Eccleston's unfilmed scene in The Day of the Doctor.
Cover blurb:
In a barn, in a desert, a weary man prepares to deploy the ultimate weapon...
Dr Who, Ian, Barbara and little Susan return to Skaro with an unexpected passenger...
Iris Wildthyme finally tells the real story about her first meeting with the Doctor...
All these tales and more are to be found inside A Second Target for Tommy!
Contents:
Eye of Orion? by Jay Eales
The Hangover of Injustice by Andrew Lawston
The Caterpillar Room by Kate Orman
The Horde of Travesties — The Prologues by Declan May
Nipping Out For Some Bits by Ian Potter
The Misadventure of Mark Thorne by Andy Frankham-Allen
Wherever and Whenever by Cody Schell
From Skaro With Love! by Nick Campbell
Why Though? by Ira Lightman
The Runaway Hi-Fi by Paul Magrs
Eyebrows and Fish by Matt Bright
Repeat Prescription by Eddie Robson
Extract from 'Collateral Damage' by Matt Barber
The Xanthous Knight by Blair Bidmead
Doctor Who: The Special by Steven Moffat
The Watcher by Nick Wallace
The Envelope Please by Jonathan Dennis
The Thief of Joy by Jon Arnold
Doctor Who and the Exile From Hell by Simon Bucher-Jones
When Iris Met Billy by Stuart Douglas
Walk A Mile In My Shoes by Jay Eales
The Same Old Road by Ian Potter
Fearmonger Redux (Extract) by Jon Blum
Fair by Ned Netherwood
'-' by Philip Marsh