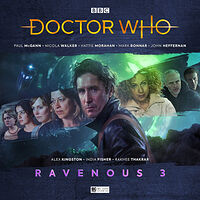 Cover blurb:
DEEPTIME FRONTIER by MATT FITTON • COMPANION PIECE by JOHN DORNEY • L.E.G.E.N.D. by MATT FITTON • THE ODDS AGAINST by JOHN DORNEY
On a distant research station, the Time Lords are playing with fire. But it isn't only mythological creatures from Time Lord legend that are coming back to life.
Fighting for their lives against terrifying creatures from the folklore of many worlds, as well as escaping the clutches of more familiar foes, the Doctor, Liv and Helen find themselves making the most unlikely ally.