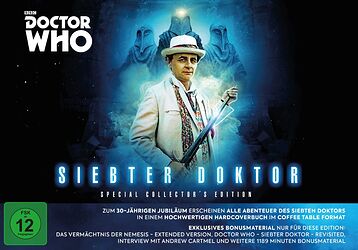 Note: German-exclusive limited edition DVD box set, however note that the discs are region-free and also contain the original English audio.
Publisher's description as follows:
For the 30th anniversary we present all Adventures of the Seventh Doctor in a valuable hardcover book in coffee table format. This Special Collector's Edition in a slipcase is limited to 1,000 copies, each with an impressed number. Exclusively for the publication script editor Andrew Cartmel has written background texts to all adventures, which can be found on 52 pages in the English original as well as in German translation.
The 17 region code free DVDs contain all adventures in English and German audio as well as English and German subtitles and the over 24 hours of bonus materials of the German season releases in English language and German and English subtitles. Disc number 17 is an exclusive bonus disc for this release and contains the BBC America special "Doctor Who — Seventh Doctor — Revisited", an exclusive new interview with Andrew Cartmel and the new restoration of the lost "Extended Version" of "Silver Nemesis".
Cover blurb:
No cover information available yet.
Help wanted! Do you own this item? Please help make this site more complete by emailing me details of the back cover blurb. Thanks!