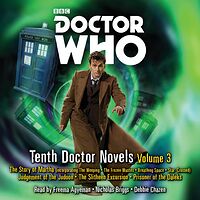 Note: Third in a series of Tenth Doctor Novels releases. Contains unabridged audio readings of The Story of Martha, Judgement of the Judoon, The Slitheen Excursion and Prisoner of the Daleks — all of which were previously-released, however the majority were only available via hard-to-find library editions, and so this is their first mass-market release on CD.
Cover blurb:
No cover information available yet.
Help wanted! Do you own this item? Please help make this site more complete by emailing me details of the back cover blurb. Thanks!