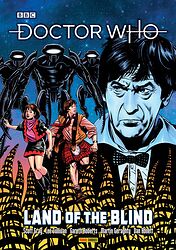 Note: Compilation of comic strips from classic issues of Doctor Who Magazine, featuring the first five Doctors.
Cover blurb:
The first five Doctors and their companions journey into new dangers in these comic stories from the pages of Doctor Who Magazine!
Featuring six astonishing tales: Victims, The Lunar Strangers, Food for Thought, Change of Mind, Land of the Blind and Bringer of Darkness.
The Fourth Doctor and Romana go shopping in the planet Kolpasha - but end up as suspects in a murder case with a monstrous twist!
The Fifth Doctor, Tegan and Turlough land on a moonbase, and encounter some alien bovines hiding a deadly secret!
The First Doctor, Ben and Polly enter a deserted city with a gigantic intruder - one that wants to consume their minds!
The Third Doctor, Liz and the Brigadier investigate a series of impossible murders, and face a psychotic psychic!
The Second Doctor, Jamie and Zoe arrive in Denossus: an alien city in the thrall of the all-powerful Vortexians!
Plus: a special Dalek story! Victoria sees a new side to the Second Doctor as he challenges his oldest enemies!