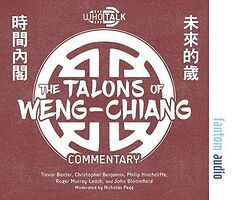 Note: Alternative audio commentary to accompany The Talons of Weng-Chiang DVD. A special edition is available exclusively from the Fantom Films website, featuring a 30 minute archive stage interview panel with Christopher Benjamin & Trevor Baxter.
Cover blurb:
Few Doctor Who stories are as revered or as adored as Robert Holmes's six part 1977 serial The Talons of Weng-Chiang.
With its intoxicating blend of Victoriana, science fiction, Chinese tongs, music halls and even a giant rat, the serial brought to a close the great gothic era of Doctor Who under the helm of producer Philip Hinchcliffe.
To celebrate the fortieth anniversary of this landmark serial, cast and crew have been reunited to provide new commentaries.
Moderated by actor Nicholas Pegg, this release features Christopher Benjamin (Henry Gordon Jago), Trevor Baxter (Professor Litefoot), John Bloomfield (Costume Designer), Roger Murray-Leach (Designer) and Philip Hinchcliffe (Producer).