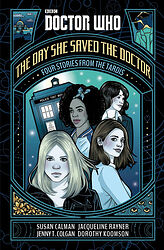 Note: Previously listed under the titles The Companions Collection and Four Friends, Four Stories. Also available as an audio reading. A sequel was announced for release in 2020, and even went as far as being listed on Amazon, but was ultimately cancelled.
Cover blurb:
'REMEMBER THE BEST. MY FRIENDS HAVE ALWAYS BEEN THE BEST OF ME.'
FOUR AMAZING ADVENTURES WITH...
Sarah Jane Smith by JACQUELINE RAYNER
Rose Tyler by JENNY T. COLGAN
Clara Oswald by SUSAN CALMAN
Bill Potts by DOROTHY KOOMSON
THE DOCTOR'S COMPANIONS, BOLD, BRAVE AND BRILLIANT AS EVER.