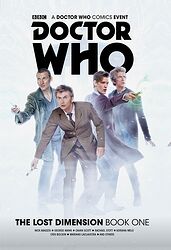 Edition:
UK (paperback)
Released:
January 2018

Publisher:
Titan Comics
ISBN:
978-1-78586-590-9
Format:
paperback
Owned:
Buy:
Cover blurb:
"EXPANSIVE, CHARMING, AND GORGEOUS!"
- NEWSARAMA
"A DAMN FINE CROSSOVER EVENT!"
- THE FANDOM POST
"THE STORY IS FANTASTIC AND THE ARTWORK STUNNING! 5/5"
- KABOOM

AN ALL-NEW ADVENTURE — WITH ALL THE DOCTORS!
When the universe is threatened, when the laws of Time, Space and Reality break down, different incarnations of the Doctor can meet. It should never happen. But this is one of those days!
Witness an unprecedented crossover between all thirteen Doctors to date, in an epic struggle for the future of the universe — guest-starring Jenny, the Doctor's Daughter! The Doctors must battle an all-consuming white hole — and uncover the deadly secet of the void between universes!
Writers George Mann (Dark Souls), Cavan Scott (Tekken), and Nick Abadzis (Pigs Might Fly), and artists including Rachael Stott (Star Trek), Adriana Melo (Star Wars), Mariano Laclaustra, Leandro Casco, and many more chart a jaw-dropping course for the impossible!
Collects the first half of the Doctor Who: The Lost Dimension event: Alpha #1, 9D Special #1, 10D #3.10, and 11D #3.10.