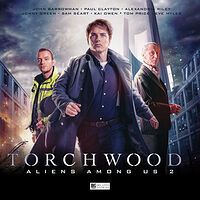 Note: Second of a three-part series continuing the story of Torchwood after the most recent TV series Miracle Day.
Cover blurb:
Cardiff's been invaded. So has Torchwood. As the city adjusts to its new rulers, the skies grow even darker. Can the city's new mayor be trusted? Who is really behind the Red Doors terrorist cell? And why, after so long away, has the enigmatic Bilis Manger returned?
5. Love Rat by Christopher Cooper
6. A Kill to a View by Mac Rogers
7. Zero Hour by Janine H Jones
8. The Empty Hand by Tim Foley
Torchwood contains adult material and may not be suitable for younger viewers.