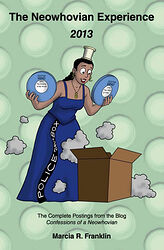 Note: Collection of posts from the blog Confessions of a Neowhovian.
Cover blurb:
The Neowhovian's Third Year Collected
This year marked the fiftieth anniversary of Doctor Who. In the months leading up to the anniversary, the BBC did its best to keep the Doctor at the forefront of pop culture awareness. Who fans everywhere speculated wildly about what would happen in the Anniversary Special, when multiple Doctors once again graced our screens at the end of November.
Then October rolled around.
When the official word came down that two missing serials had been recovered nearly in their entirety, fandom went bonkers. The last few months of the year were a whirlwind of celebration, and the Neowhovian joined in the melee.
Here you will find the complete record of all the Neowhovian's musings on a wide range of stories, old and new, as well as her reactions to the developing news throughout 2013. New content still posts regularly at Confessions of a Neowhovian and on social media.
On the web:
www.neowhovian.com
twitter.com/neowhovian
facebook.com/Neowhovian