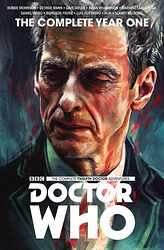 Note: Hardcover collection including the previously-published graphic novels Terrorformer, Fractures and Hyperion.
Cover blurb:
THE COMPLETE TWELFTH DOCTOR COLLECTION!
The Twelfth Doctor has just regenerated — but the universe won't give him a minute's rest! Not when there's a violent, sentient star on the warpath on a terraformed ice planet — or an ancient celestial murdering her way towards resurrection!
From an enemy who can slide between the cracks of the universe, to an alien invasion in 1960s Las Vegas, and on to a battle for the future of the solar system, the Twelfth Doctor and Clara have their work cut out for them if they're going to survive!
Writers Robbie Morrison (Drowntown, Nikolai Dante), George Mann (Warhammer 40,000, Dark Souls) and Cavan Scott (Vikings, Tekken) join an astounding team of artists, including Dave Taylor (Batman: Death By Design), Brian Williamson (Torchwood), Daniel Indro (Vikings) and Mariano Laclaustra (Torchwood), in this complete collection of the year one adventures of the Twelfth Doctor, as played by Peter Capaldi, and Clara, as played by Jenna Coleman.
Collects Doctor Who: The Twelfth Doctor Year One #1-16.