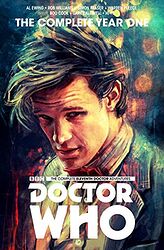 Note: Hardcover collection including the previously-published graphic novels After Life, Serve You and Conversion.
Cover blurb:
THE COMPLETE ELEVENTH DOCTOR COLLECTION!
Join whip-smart Alice Obiefune, mercurial Jones, and the mysterious, shapeshifting ARC, as the Eleventh Doctor — as played by Matt Smith — fills his TARDIS with an all-new team of companions!
Whether battling time running backwards, facing an alien air war, or grappling with the deadly machinations of SERVEYOUinc, terror, awe, and danger are never far away... But the Doctor, Alice and their friends are here to scream "Geronimo!" at the thrills and impossible challenges of an infinite universe!
Astounding writers Al Ewing (USAvengers, The Ultimates, Loki: Agent of Asgard) and Rob Williams (Suicide Squad, Trinity, Kingsman: The Red Diamond), Warren Pleece (Hellblazer), and Boo Cook (Elephantmen), in this complete edition of the Eleventh Doctor's first year at Titan Comics!
Collects Doctor Who: The Eleventh Doctor Year One #1-15.