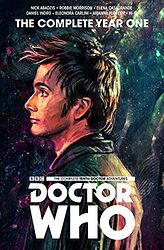 Note: Hardcover collection including the previously-published graphic novels Revolutions of Terror, The Weeping Angels of Mons and The Fountains of Forever.
Cover blurb:
THE COMPLETE TENTH DOCTOR COLLECTION!
Two strangers — the Doctor: charming, eccentric Time Lord with a past as dark as a black hole; Gabriella Gonzalez, struggling waitress and wannabe artist who wants to believe in a better, brighter future.

Hurled together by a wave of psychic horror haunting New York, they embark on an epic new adventure across time and space, facing the impossible at every turn!
Award-winning writers Nick Abadzis (Laika, Pigs Might Fly) and Robbie Morrison (Nikolai Dante, The Twelfth Doctor) team with unforgettable artists Elena Casagrande (Vigilante, The X-Files), Daniel Indiro (Vikings, Warhammer 40,000), Eleonora Carlini (Batgirl, Green Arrow), and Rachael Stott (Planet of the Apes, Star Trek, The Twelfth Doctor), in this complete edition of the Year One adventures of the Tenth Doctor — as played by David Tennant!
Collects Doctor Who: The Tenth Doctor Year One #1-15.