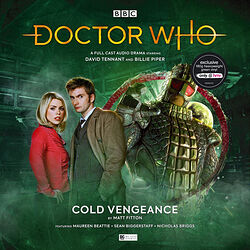 Edition:
UK (LP)
Released:
October 2018

Publisher:
Big Finish
ISBN:
Unknown
Format:
1 x LP
Owned:
Buy:
Note: Numbered limited edition of 1,250 copies, exclusive to HMV (including their subsidiary Fopp).
Cover blurb:
The TARDIS arrives on Coldstar, a vast freezer satellite, packed with supplies to feed a colony world. But there are cracks in the ice, and something scuttles under the floors. Soon, Rose and the Doctor encounter robots, space pirates and... refuse collectors.

As Coldstar's tunnels begin to melt, an even greater threat stirs within. An old enemy of the Doctor puts a plan into action — a plan for retribution.

Nobody's vengeance is colder than an Ice Warrior's.

BIG FINISH PRODUCTIONS
Our audio adventures are based on much-loved TV series like Doctor Who, Torchwood, Dark Shadows, Blake's 7, The Avengers, The Prisoner, The Omega Factor, Terrahawks, Captain Scarlet and Survivors, as well as classics such as HG Wells, Shakespeare, Sherlock Holmes, The Phantom of the Opera and Dorian Gray, plus original creations such as Graceless, Charlotte Pollard and The Adventures of Bernice Summerfield.