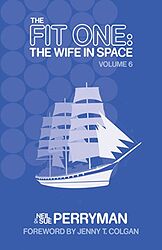 Note: Compilation of entries from the Wife In Space blog — in this case, the entries pertaining to the Fifth Doctor. Limited-edition paperback (only 400 copies), but also available as an e-book.
Cover blurb:
"What kind of planet has a Death Zone?"
— Sue Perryman
Join Sue as she encounters the classic series for the first time. Admire her eye for bespoke carpentry, laugh at her inability to grasp how the Time War works, and marvel at her talent for spotting actors who have appeared in EastEnders, as she offers a fresh — and occasionally bizarre — perspective on the greatest television show ever made.
This book covers Castrovalva to The Caves of Androzani
FEATURING:
TIME CRASH
THE TOMORROW PEOPLE
A VERY PECULIAR PRACTICE
and A PAIR OF BLACK UNDERPANTS