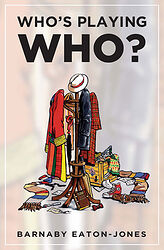 By:
Barnaby Eaton-Jones
Released:
September 2023 (Exact date unconfirmed)

Publisher:
ChinBeard Books
ISBN:
Unknown
Format:
paperback
Owned:
Buy:
Note: Limited edition of 100 books. Was originally announced for publication by Hirst Books in 2012 and then Miwk Publishing in 2013, but was never published at the time.
Cover blurb:
On the 40th anniversary of Doctor Who, The OFFSTAGE Theatre Group set out on a journey to entertain audiences in the UK and the USA with their version of the series; big, affectionate, comedic, non-profit stage shows, full-length plays, sketch shows, 'live' audios and one-act pieces.
It was a four-year journey that took in the return of the good Doctor to primetime BBC One and an epic mission that involved ego clashes, last-minute re-writes, odd prop and costume making, converting non-Who fan actors, romantic relationships, enthusiastic responses (and specially requested written roles) from the TV series.
Alumni, tantrums, tears, alcohol, laughter and more friendships than you could shake a Sonic Screwdriver at — yes, all of that and much, much more. This book includes an abundance of backstage stories, photographic evidence, and script samples, some of which have never seen the light of day until now.
It's an essential guide to how a small-budget theatre company can put on big-budget productions!