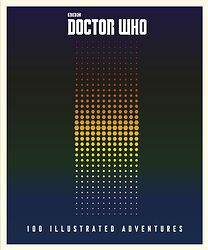 Note: Parts of this book were previously published in an abridged format in The Essential Guide. Publisher's description as follows: A new illustrated episode guide, showcasing the best of the beloved British sci-fi classic, Doctor Who. Profiling 100 of the most beloved episodes since the show first broadcast in 1963, this book is filled with original art from fan artists and professional artists alike, as well as in-depth episode information. Spanning from the era of the First Doctor to the Twelfth, this stunning book is a must-have Doctor Who keepsake and guide.
Cover blurb:
'You know the sound the TARDIS makes? That wheezing groaning? That sound brings hope wherever it goes.'
One hundred of the Doctor's most beloved adventures through time and space, illustrated by Doctor Who fans of all ages.
From the First Doctor to the Twelfth, this is an episode guide like no other, brought to life with over 100 original pieces of art created especially by the Doctor Who fandom.