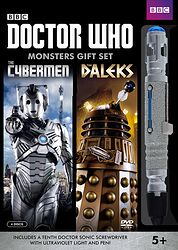 Note: Re-release of The Daleks and The Cybermen DVD collections together in one box set, along with a replica 10th Doctor sonic screwdriver.
Cover blurb:
THE MOST FEARED MONSTERS FROM DOCTOR WHO ARE FEATURED IN THIS SPECTACULAR GIFT SET THAT INCLUDES EPISODES STARRING CHRISTOPHER ECCLESTON, DAVID TENNANT, MATT SMITH AND PETER CAPALDI!
DALEK / THE STOLEN EARTH / JOURNEY'S END
ARMY OF GHOSTS / DOOMSDAY / ASYLUM OF THE DALEKS
CLOSING TIME / NIGHTMARE IN SILVER
INTO THE DALEK / DARK WATER / DEATH IN HEAVEN
ALSO INCLUDES A TENTH DOCTOR SONIC SCREWDRIVER!
BONUS FEATURES
GENESIS OF THE DALEKS and EARTHSHOCK - Tom Baker and Peter Davison star in these two iconic Classic Doctor Who adventures!
CYBERMAN ORIGINS and DALEK ORIGINS - Discover the history of these dreaded monsters in these two exciting documentaries