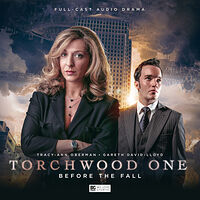 Cover blurb:
London, 2005. Yvonne Hartman is the undisputed head of Torchwood One. Above the government, beyond the police, she has excellent people skills; enjoys regular tea with the Queen; and effortlesssly defends the British Empire from alien threats.
Yvonne Hartman is excellent at her job, and inspires devotion in everyone who works with her — until, one day, she makes a terrible mistake. We all make mistakes. But only at Torchwood can a single mistake plunge your world into interstellar war.
Yvonne Hartman's facing the fight of her life. One she's going to win.

NEW GIRL BY JOSEPH LIDSTER
THROUGH THE RUINS BY JENNY T COLGAN
UPRISING BY MATT FITTON

A full cast drama on three CDs starring Tracy-Ann Oberman, Gareth David-Lloyd and Sophie Winkleman.
Torchwood contains some adult material and is not suitable for younger viewers.