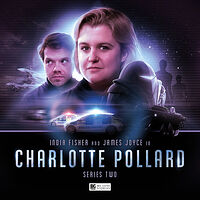 Note: Follow-up to Charlotte Pollard: Series One. Audio drama box set featuring the character of Charlotte "Charley" Pollard, who of course was a former companion of the Eighth and Sixth Doctors in Big Finish's series of audio adventures.
Cover blurb:
Charlotte Pollard. Space-time traveller.
Former emissary of the mysterious and terrifying Viyrans.
Now's she's cast adrift and finds herself and unlikely adventurer Robert Buchan brought right down to Earth — but an Earth which is changing rapidly.
Why and how have they crash-landed in the London Underground? Who are the Identical Men? And why is human behaviour starting to change in startling and unexpected ways?
Charley, Robert and their friend the Rogue Viyran must find out if they are the solution or the cause.
Deep bunderground, something is stirring. Fragments of an alien design are coalescing...
PART 1: EMBANKMENT STATION • PART 2: RUFFLING
PART 3: SEED OF CHAOS • PART 4: THE DESTRUCTIVE QUALITY OF LIFE
ALSO CONTAINS A SPECIAL MAKING OF CHARLOTTE POLLARD BONUS CD, FEATURING INTERVIEWS WITH THE CAST AND CREW.