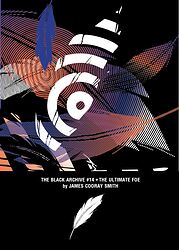 Note: A print-on-demand edition (linked via the Lulu logo above) was also released in November 2017 to allow Australia/NZ readers to order the book with much cheaper postage costs. It is identical to the original version, except for having a glossy cover instead of the original's matt cover.
Cover blurb:
'You are dead, Doctor. Goodbye.'
The conclusion of the epic serial The Trial of a Time Lord (1986), 'The Ultimate Foe' should have made a grand statement about Doctor Who, but was dogged by unprecedented problems including the death of one scriptwriter and the sudden resignation of another. This Black Archive examines the draft scripts to see how creative conflicts behind the scenes led to the clashing intentions and interpretations of the final broadcast episodes.
James Cooray Smith wrote the critically acclaimed The Black Archive #2: The Massacre.
THE BLACK ARCHIVE:
Book-length looks at single Doctor Who stories from 1963 to the present day
"A grandly ambitious thing to attempt with something as exhaustively detailed as (Who). But they actually manage it. Treat your bookshelf."
—Doctor Who Magazine