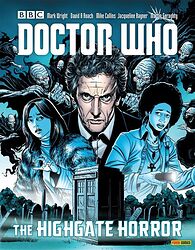 Cover blurb:
COLLECTED TWELFTH DOCTOR COMIC STRIPS — VOLUME 2
Join the Doctor and Clara on their amazing adventures in space and time in these collected comics from the pages of DOCTOR WHO MAGAZINE!
Featuring seven incredible stories:
THE HIGHGATE HORROR
SPACE INVADERS!
SPIRITS OF THE JUNGLE
THE DRAGON LORD
THEATRE OF THE MIND
WITCH HUNT
and
THE STOCKBRIDGE SHOWDOWN
a special adventure celebrating the history of the DWM strip with guest artists Dave Gibbons and John Ridgway!
The Doctor and Clara are trapped in Highgate Cemetery in 1972, and become prey to a force that feeds on death itself...
A strange visitor to Coal Hill School on Halloween sends Clara on a terrifying journey to the time of the witch trials...
A team of mercenaries enters a lethal alien jungle — and the Doctor and Clara discover a familiar face...
ALSO! An in-depth commentary section where the comics creators reveal the secrets behind the stories! Featuring never-before-published art, photos and character designs!
AN ESSENTIAL COLLECTION FOR FANS OF DOCTOR WHO AND CLASSIC BRITISH COMICS!