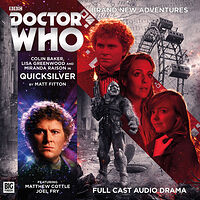 Cover blurb:
It's the telegram Constance never wanted to read:
DEEPLY REGRET TO INFORM YOU LT-CMDR H CLARKE LOST IN ACTION. CLASSIFIED OPERATIONS.
Those classified operations concerned a top-secret military project code-named 'Quicksilver'. A project based in Vienna. A project with alien connections.
But bombed-out Vienna is not what it was before the war — with its Strauss music, its glamour and easy charm. It's not the time nor the place for a happy reunion. As Constance Clarke is about to discover...
And as the Doctor is about to discover, too!