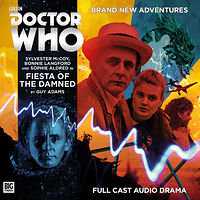 Note: Released on August 9th exclusively via the Big Finish website. The general release date for Amazon and other retailers is September 30th.
Cover blurb:
In search of "a taste of the real Spain", the TARDIS transports the Doctor, Ace and rejoined crewmember Mel not to sizzling Fuerteventura, or the golden sands of the Costa Brava — but to 1938, amid the horrors of the Spanish Civil War.
Having fallen in with a rag-tag column of Republican soldiers, the time and space travellers seek shelter from Franco's bombers in the walled town of Farissa — only to discover themselves besieged by dead men returned to life...